How did it all begin? Where did i-lube come from? It's an interesting story and worth the read.
Corporate Milestones
Inter-link Resources Inc. was started in 1998 by president, Brad Hampel,after completing his Masters degree in Neuroscience. Having worked in the quick-lube industry as a student during high school,and recognizing that the industry needed something better for a POS system,Brad sat down and began to program I-lube. The process was laborious, difficult and time consuming, but by the end of 1999 Brad had the first version of i-lube; and was establishing customers across the US and in Canada.
Computer-less terminals
One of Brad's visions was to keep Inter-link at the forefront of technology and so he developed a way that a store needed only one computer; that all the bays could run off of the main terminal. His research and development led him to investigate the process of patenting the idea. Interest for this reached across the continental United States and garnered attention from several companies.This technology of Inter-link Resources Inc. was sold to a well-known Windows-based POS provider who incorporated this exciting new technology into their suite of products.
2005: The Return
Over the course of the next few years, I-lube was enhanced, features were added and the software was polished for final release. When Radiant Systems decided to withdraw from the industry, Inter-link began to acquire many of these customers and emerged as a leader in the POS industry.
Moving forward 2010 and beyond
Our goal is simple. We want to build the best, fastest, most technologically advanced POS in the world. Our corporate vision was outlined in 1999, and, even 10 years later it certainly reflects the vision of Inter-link and i-lube today.
Please read, and remember we want you as our customer, and we want i-lube to be your POS.
Building Partnerships, a message from the President
Customizing I-Lube™ for our clients - the road ahead...
As the founder, and president of Inter-link Resources Inc., I wish to thank you for taking the time to
review this brochure. Over the past few years we've experienced phenomenal growth; we are rapidly
expanding, and are striving to achieve one goal- to provide the best POS system in the world. I-lube is now
used on 3 continents in 4 different countries; with our largest customer base across the United States and
Canada.

This phenomenal growth that we have experienced is due to two factors: the quality of our product,
and the fact that we'll customize I-lube and tailor it to meet our customers' needs. Our goal is simple. Over the
next 10 years, we want to become the largest company in the fast-lube POS business bar none. In the best
interests of our clients, we have established important relationships with larger companies within the fast-lube
and technology industries such as Chek-Chart™, Motor Information Systems, Microsoft, Symbol, MySQL,
and Dell to name a few. These relationships will ensure that our POS system will continue to evolve with
accurate and consistent, on-line data and vital vehicle statistical information. At Inter-link, every one of our
customers is important, and we have built our business one customer at a time. We pride ourselves on our
support, service and personalized relationships, and within this framework, I invite you to personally contact
me at any time, for any reason. With our innovative technology, we provide the most comprehensive and
complete POS system in the fast-lube industry and we look forward to helping your business grow.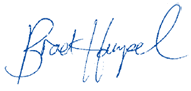 Brad Hampel, President
Inter-link Resources Inc.